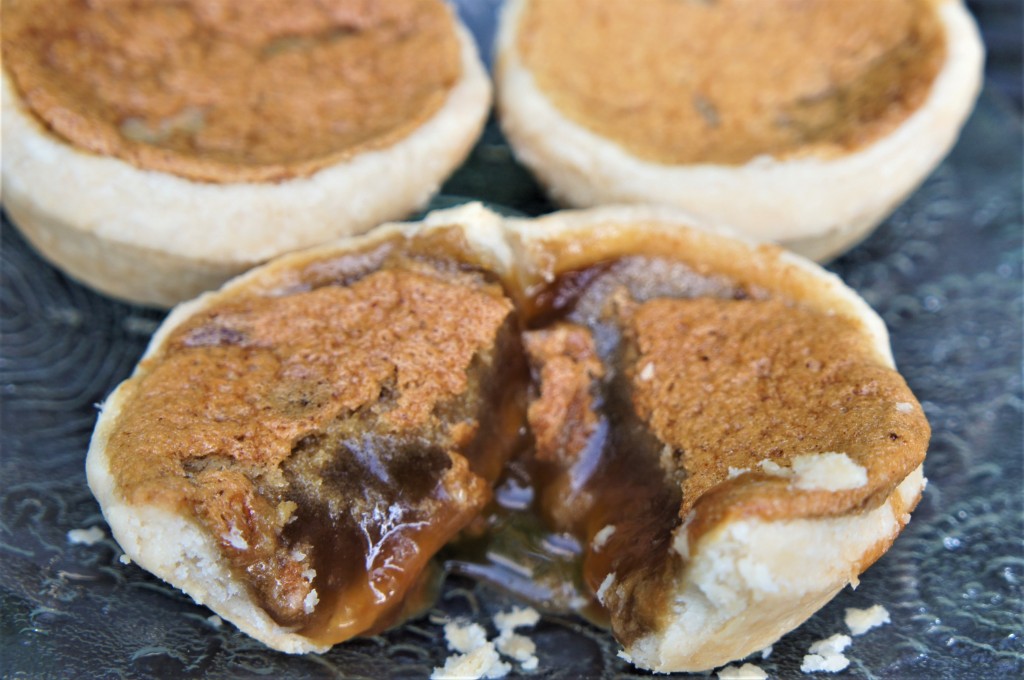 I confess.
There have been many times when I have driven hours out of my way for this small pastry tart with a sweet filling of butter, sugar and syrup melting in my mouth.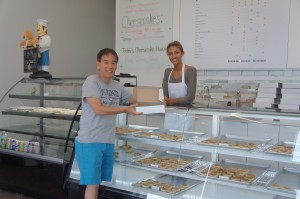 Thankfully I have discovered The Sweet Oven, www.thesweetoven.com a bakery in Barrie Ontario that specializes in baking trays and trays of plain butter tarts, raisin butter tarts, pecan, peanut butter, English Toffee….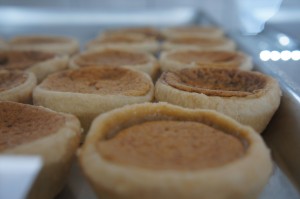 Sweet Oven Butter Tarts have a thick brandy coloured syrupy centre – powerfully sweet and perfect balance of runny and firm. I especially like to crunch that intersection of pastry, semi solid filling and caramelized sugar top. They were honoured as the best butter tart in Canada by Canadian Living magazine in 2013.
The butter tarts are $3 each. But $2 each if you buy half a dozen. That means I could easily have lunch everyday at Sweet Oven for $12.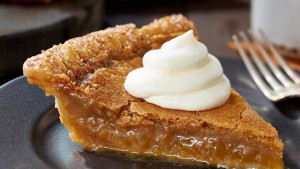 The invention is credited to the 800 women from France who were sent to colonize Quebec from 1663 to 1673 by Louis XIV. They made a sugar pie, a single-crust pie with a filling of flour, butter, salt, vanilla and cream – the precursor to the butter tart.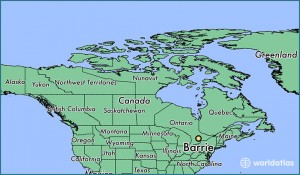 It turns out that Barrie, a burgeoning city about 60 miles north of Toronto, is the Butter Tart epicentre of the world. Not only do they have The Sweet Oven, but they are also the birthplace of the modern Butter Tart. The first written recipe for Butter Tarts is from The Women's Auxiliary of the Royal Victoria Hospital Cookbook in 1900, by Mrs. Malcolm MacLeod of Barrie (should she not be a member of the Order of Canada?).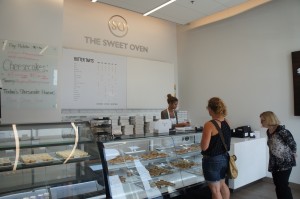 O.K. I am ready to move to Barrie. With the best Butter Tarts in the country and a history of Butter Tart culture, I cannot resist. I hope Franny will understand. Maybe we could both get jobs in the Butter Tart profession. Maybe I could be a Butter Tart Tester at Sweet Oven.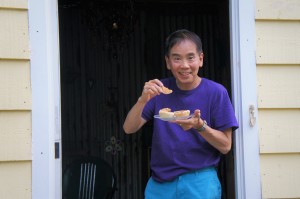 Butter Tarts are a perfect dessert to match the unassuming character of Canadians. Quiet and modest looking on the outside, once you get inside of the tart, it is oozing with passion, unbridled sweetness and powerful flavour. My God, I can hear "Oh Canada" playing in the background. Get me my hockey stick. It's Moscow, 1972, all over again.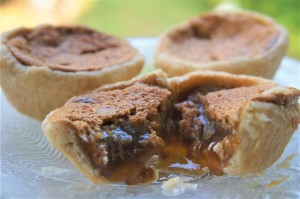 Ultimate Butter Tart Recipe – Chatelaine Magazine
CRUST
1 3/4 cups all-purpose flour
1/2 tsp salt
1/3 cup cold unsalted butter, cubed
1/4 cup cold lard, cubed
1 egg yolk
1 tsp white vinegar
1/4 cup ice water
FILLING
3/4 cup packed light brown sugar
1/3 cup white corn syrup
2 tbsp maple syrup
2 eggs
1/4 cup unsalted butter, melted
1 tsp vanilla
1 tsp white vinegar
1/8 tsp salt
WHIRL flour and salt in a food processor. Add butter and lard. Pulse until coarse crumbs form. Whisk yolk, vinegar and ice water in a small bowl. With motor running, pour through feed tube while pulsing until just combined. Wrap with plastic wrap and press into a disc. Refrigerate for 1 hour.
POSITION rack in bottom of oven. Preheat oven to 450F.
WHISK sugar, corn syrup, maple syrup, eggs, butter, vanilla, vinegar and salt in a bowl until smooth.
ROLL out dough on a lightly floured surface to ⅛-in. thickness. Cut into 12 rounds using a 4 ½-in. round cookie cutter, re-rolling scraps. Gently press rounds into a 12-cup muffin pan. Press sides to adhere. Refrigerate for 20 min. Spoon 2 tbsp filling into each pastry.
BAKE for 8 min. Reduce heat to 400F and open oven slightly for 10 sec. Bake until filling is puffed and pastry is golden, about 7 more min. Let stand on rack for 3 min. Run a small knife around the edges of tarts and transfer to rack to cool completely.