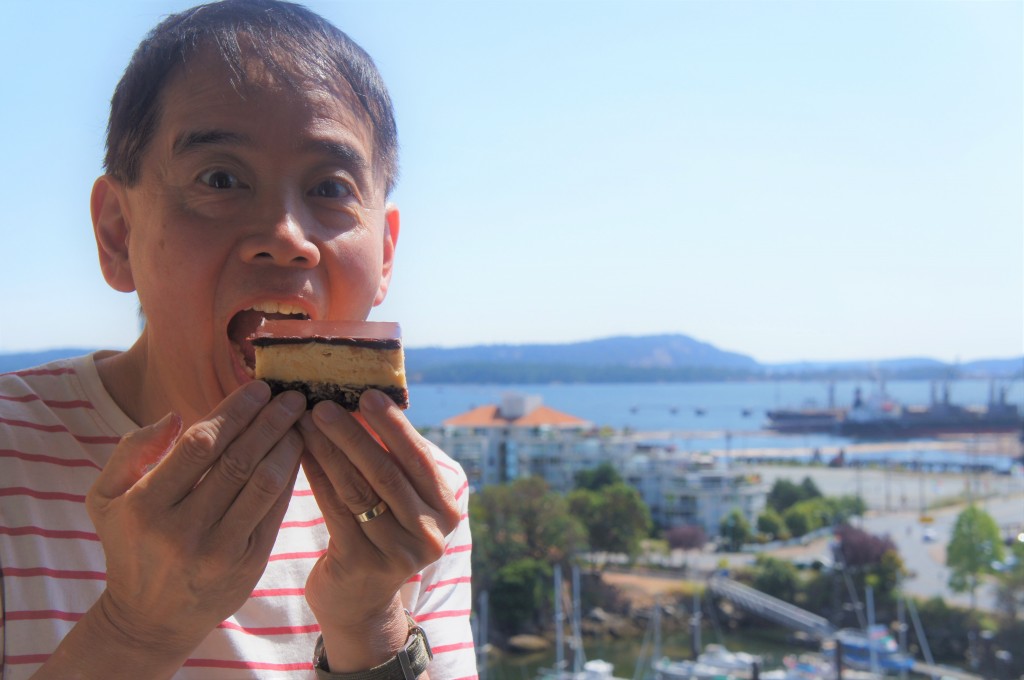 In a culinary world mad with nitrogen blasted ice cream, lab-grown meat and cricket caramel apples, it's nice to indulge in something simple, sweet and as satisfying as hugging your favorite aunt. Overlooking the harbour of Nanaimo, British Columbia, I am savouring the homey goodness of a perfect Nanaimo Bar.
The Nanaimo Bar is a beloved Canadian treat that consists of three layers:
1. Graham wafer crumb-base,
2. Butter icing centre, and
3. A layer of chocolate – Who can say no to that?
My Nanaimo Bar is a work of art from the Mon Petit Choux Café and Bakery.
Located on the eastern shore of Vancouver Island, Nanaimo is a Pacific coast town doing it's best with a genteel main street of bookstores, artisan shops and cappuccino emporiums. But it is also the home for a great dessert square.
Historical evidence points to women trading the recipe around in various versions. Recipes for similar desserts are found in different places (back to the 1930's) and names (chocolate square, chocolate fridge cake) in North America and Europe.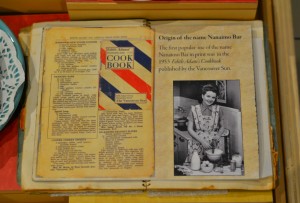 The earliest recipe using the name "Nanaimo bars" appears in the Edith Adams' cookbook (14th edition) from 1953 (see photo from Nanaimo Museum).
In 1986, the mayor of Nanaimo launched a contest to find the ultimate Nanaimo Bar. The winner, Joyce Hardcastle, intimates that the secret to her prize-winning recipe is to use unsalted butter. "It makes the bars a bit more mellow."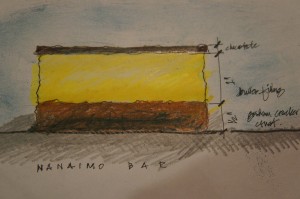 My Petit Choux Nanaimo Bar is a "Super Model" of Nanaimo Bars.
The crust a full ½ inch thick – BIG – The graham cracker, coconut and almond pack a crunch.
The custard is a full 1 inch thick – BIG – Butter icing – fluffy, light, almost souffle-like.
The chocolate is a ganache – delicate, subtle. Nanaimo Bar was voted, "Canada's Favorite Confection" in a National Post Reader Survey.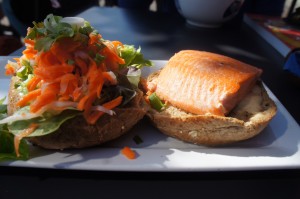 Nanaimo is proud of its other culinary offerings. Mon Petit Choux Café also boasts crispy chocolate croissants and dreamy brioche buns.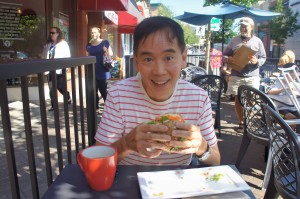 Across the street, Gabriel's Gourmet Café served me a perfect fleshy wild salmon fillet garnished with crunchy carrot slaw. And then, Franny and I visited Yellow Point Cranberries for their cranberry concoctions – salsas, horseradish and jellies.
But, when I'm in Nanaimo – the BIG classic Nanaimo Bar is the star of the show.
Nanaimo Bar – Joyce Hardcastle Winning Recipe
Bottom Layer
½ cup unsalted butter (European style cultured)
¼ cup sugar
5 tbsp. cocoa
1 egg beaten
1 ¼ cups graham wafer crumbs
½ c. finely chopped almonds
1 cup coconut
Melt first 3 ingredients in top of double boiler. Add egg and stir to cook and thicken. Remove from heat. Stir in crumbs, coconut, and nuts. Press firmly into an ungreased 8″ x 8″ pan.
Second Layer
½ cup unsalted butter
2 Tbsp. and 2 Tsp. cream
2 Tbsp. vanilla custard powder
2 cups icing sugar
Cream butter, cream, custard powder, and icing sugar together well. Beat until light. Spread over bottom layer.
Third Layer
4 squares semi-sweet chocolate (1 oz. each)
2 Tbsp. unsalted butter
Melt chocolate and butter over low heat. Cool. Once cool, but still liquid, pour over second layer and chill in refrigerator.